The new Smartcolor CJV 150/107 series guarantees high performances, creativity and versatility in brilliant color images printing. The optimal solution for who is looking for a highly professional product at an affordable price.
High printing speed up to 56.2 sqm/hr draft quality
High resolution up to 1440 dpi
Printing size: 1090 x infinity
Several inks configurations
Nozzle control unit (NCU) and nozzle recovery system (NRS) for uninterrupted production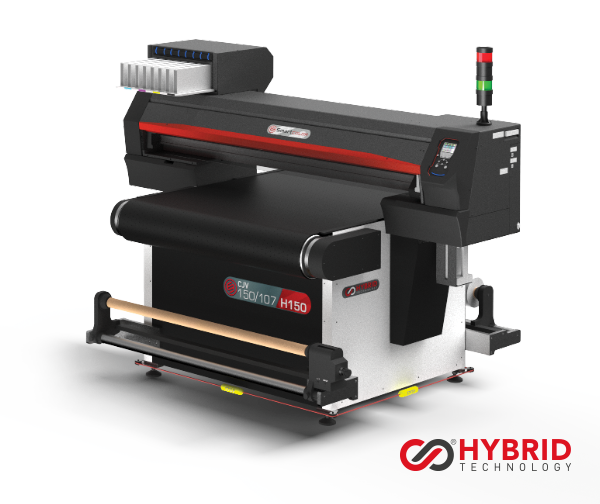 Print without interruption
and versatile inks

The ISS * system (Ink Supply System) allows continuous feeding of printing ink. When a cartridge is finished the system starts automatically to use another cartridge while continuing to refill the print head with new ink. The cartridges can be replaced without stopping the machine and gaining valuable time. This system has numerous potentialities: it is possible to program the SmartHybrid CJV-150/107 to print without interruptions during work breaks or even overnight. The SmartHybrid CJV-150/107 can be provided with a double CMYK or a configuration with opaque white, Light cyan and Light magenta. The SmartHybrid CJV-150/107 is particularly suitable with Smartcolor UltraGrip + inks, ideal for outdoor applications thanks to their ability to firmly attach themselves to the substrate and dry quickly. The applications produced will be extremely resistant to weathering and scratching: Smartcolor offers maximum coverage and shine as well as a perfect seal from 3 up to 5 years!
The ISS system can only be used with CMYK mode.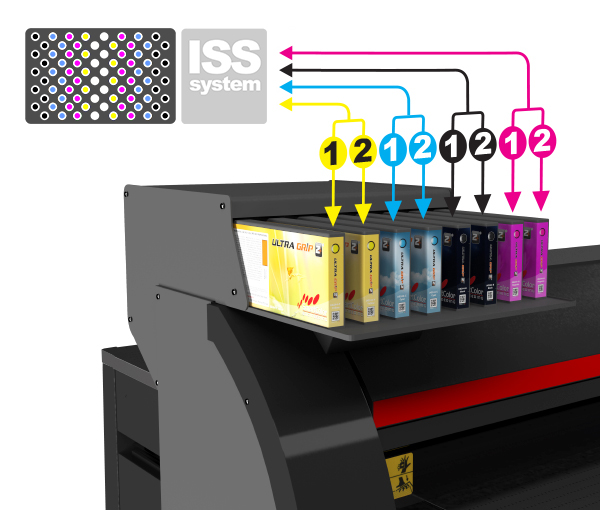 Print objects up to
25cm thickness

Our SmartHybrid plotters can print objects up to 25cm thickness. Thanks to a revolutionary extremely robust but lightweight printing surface, the SmartFlat series does not limit creativity, especially in industrial inkjet printing. Thanks to the ability to load any kind of rigid or flexible material, SmartFlat becomes the indispensable solution for any company that wants to range from prototype to mass production or customizing each application to 100%.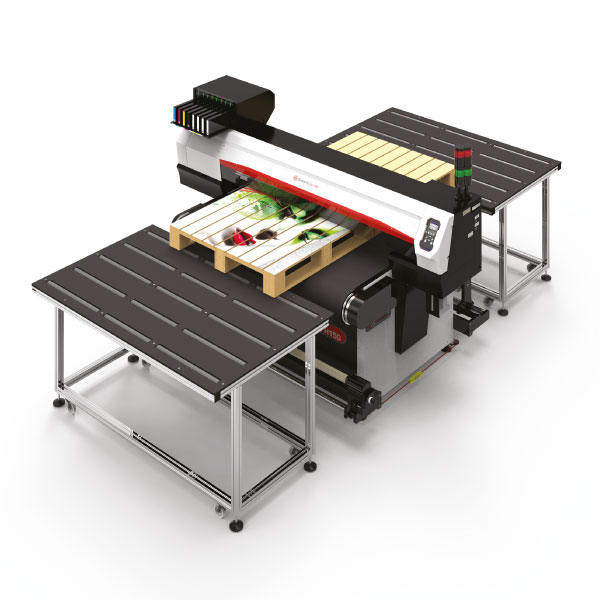 Thousands of possible
applications

Innovation is the basis of the daily activity of the Smartcolor staff, which experiments on new materials the perfect combination of SmartHybrid plotters with the latest generation of ecological, odorless inks, specially formulated for the various print media: forex, Plexiglas, glass, leather, wood, ceramic, polyurethane and drywall, but also iron, aluminum, copper, brass and silver, natural fabrics such as cotton and silk, synthetic fabrics, and many more. The Smartcolor staff studies and realizes the best printing solution in terms of materials, time and costs, in a real creative laboratory where materials and objects can be transformed into a thousand different ways and return to the market with an invaluable added value: uniqueness.
Main printing technical
characteristics

Waveform control for a print of incomparable quality.
Accurate positioning of ink drops. Aligned jet of ink drops, with almost perfect point circularity, guarantees a precise positioning of ink drops with a clear and uniform printing of letters, lines, angles, etc. Optimized waveform to minimize the risk of nozzles leaks.
Productivity maintenance
NRS *
The NRS system replaces the defective nozzles with working ones until the technician arrives for maintenance. This feature enables uninterrupted printing and continuous productivity.

* 1 NRS: Nozzle Recovery System, Nozzle Reset System * 2 It is possible to exclude 10 nozzles per nozzles row.
Stable printing thanks to ink circulation system
MCT is a standard feature included in order to effectively prevent the deposit of white and silver pigments in the ink lines by regular ink recirculation. This system avoids issues and ensures stable printing since the beginning of the run. In addition, MCT contributes to the reduction of waste ink, supporting environmentally friendly and cost-effective applications.
Prevention of print quality problems - NCU *
The CJV 150/107 is equipped with the original Mimaki automatic NCU system. The clogged nozzles are automatically detected and cleaned by the NCU system. If the problem is not solved by cleaning, the CJV150/107 automatically activates the NRS nozzle reset function and printing is resumed. These features significantly reduce print waste caused by clogged nozzles during a continuous print run.
Type of printing:8-channel 8-color single ink-jet head
Resolution: 540, 720, 1440 dpi max
Drop: variable, minimum 4 pl
Speed:Max 56.2 sqm/h draft quality
Maximum print size: Max 1090 x infinity
Printing height: Max 250 mm
Material height management: Laser sensor
Type of inks: Ultra Grip®, Ultra Latex®, UltraTex®, Ultra UvLed®
Colors: 2 cmyk, cmyk lc lm ww, cmyk ww vv
Interfaccia: USB 2.0
Software: SmartRip®
Accessories:Antistatic bar
Alimentazione:: Industrial power supply 380 volt: Power supply socket 400V, 4p + t, 16A. The line must be protected by a 16A differential magnetothermic switch with a sensitivity of 0.3 ... 40A 4 pol
Energy saving: Automatic Sleep Mode
Operating system: Windows® 8 / 8.1 (32/64-bit) - Windows® 7 Professional or Ultimate (32/64-bit)
CPU:Intel® Core ™ i5 or superior
RAM:4 GB minimum
Video resolution:1280 x 1024 resolution or higher
Free space on Hard Disk:250 GB or greater
Hard-disk file system:NTFS Format
Drive: DVD-ROM drive
The applications work at 32-bit but maintain the usual efficiency even on Windows® 64-bit system.
Smartcolor machines include a feature-rich RIP software and solutions to automate workflow and simplify production steps. To save time and money, the Media Preset feature allows you to save up to 8 print and material settings, which you can reuse in the future for works that have the same characteristics.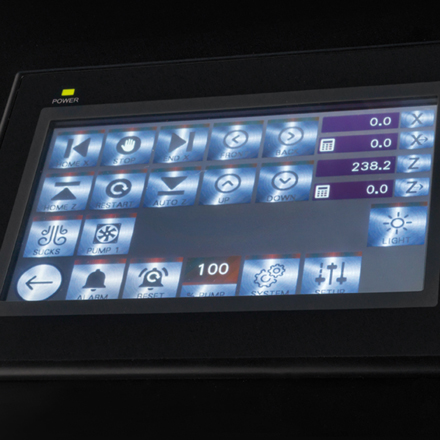 Separate control tower containing electronics and touch control panel.
Automatic height recognition sensor, for printing shaped and irregular materials and objects of different sizes.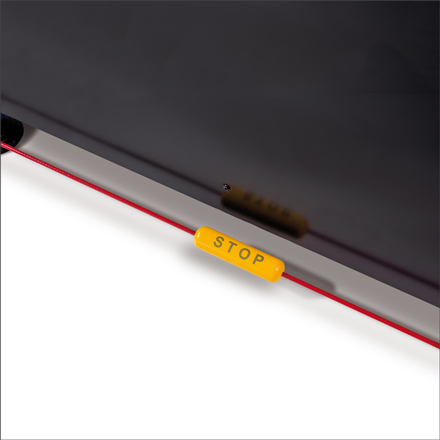 Perimeter security sensor placed along the base of the machine to protect the operator during printing.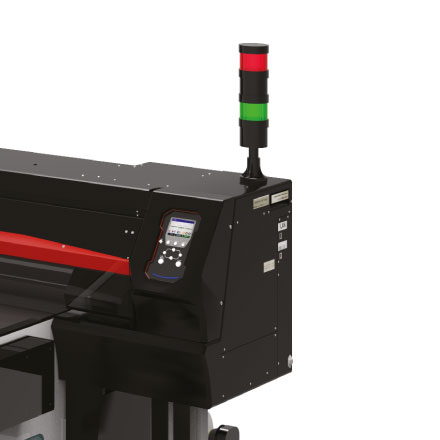 The light indicator, useful for easily monitoring remote production, indicates when the set-up is complete, printing is in progress or is completed.
The SmartHybrid 150/107 series is available in formats: H150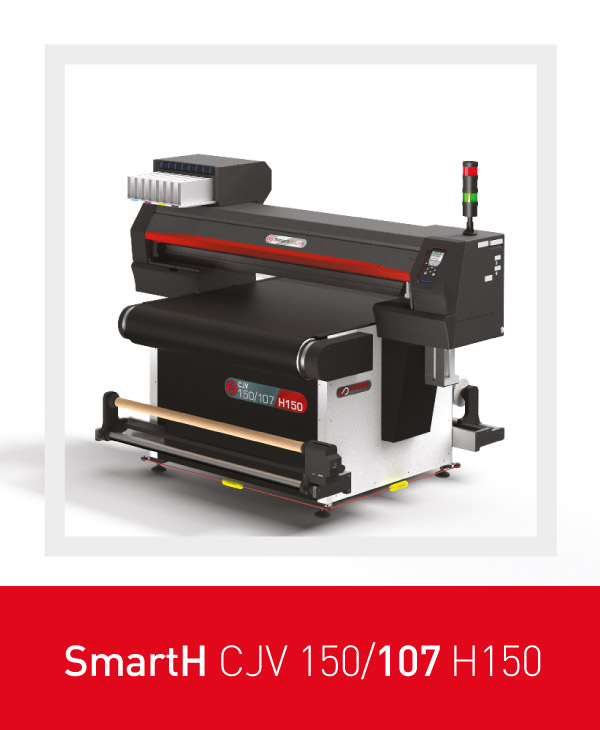 Dimensions H150: 1090 mm x infinity